Visiting Cacao Trees at Discovery Garden, Nong Khai
An unlikely place to grow Cacao. Not many people know about Discovery Garden in Nong Khai, Thailand but I just came back from a visit there and had a wonderful day out.
The main purpose of my trip was to visit their small cacao plantation, see some cacao trees and bring home a cacao plant for myself.
Discovery Garden is kind of a small botanical garden with a wide range of herbs, fruits and plants from around the world, particularly from Europe. They grow cinnamon, lemons, limes, avocados, olives, basil, rosemary and the reason I made the visit, cacao.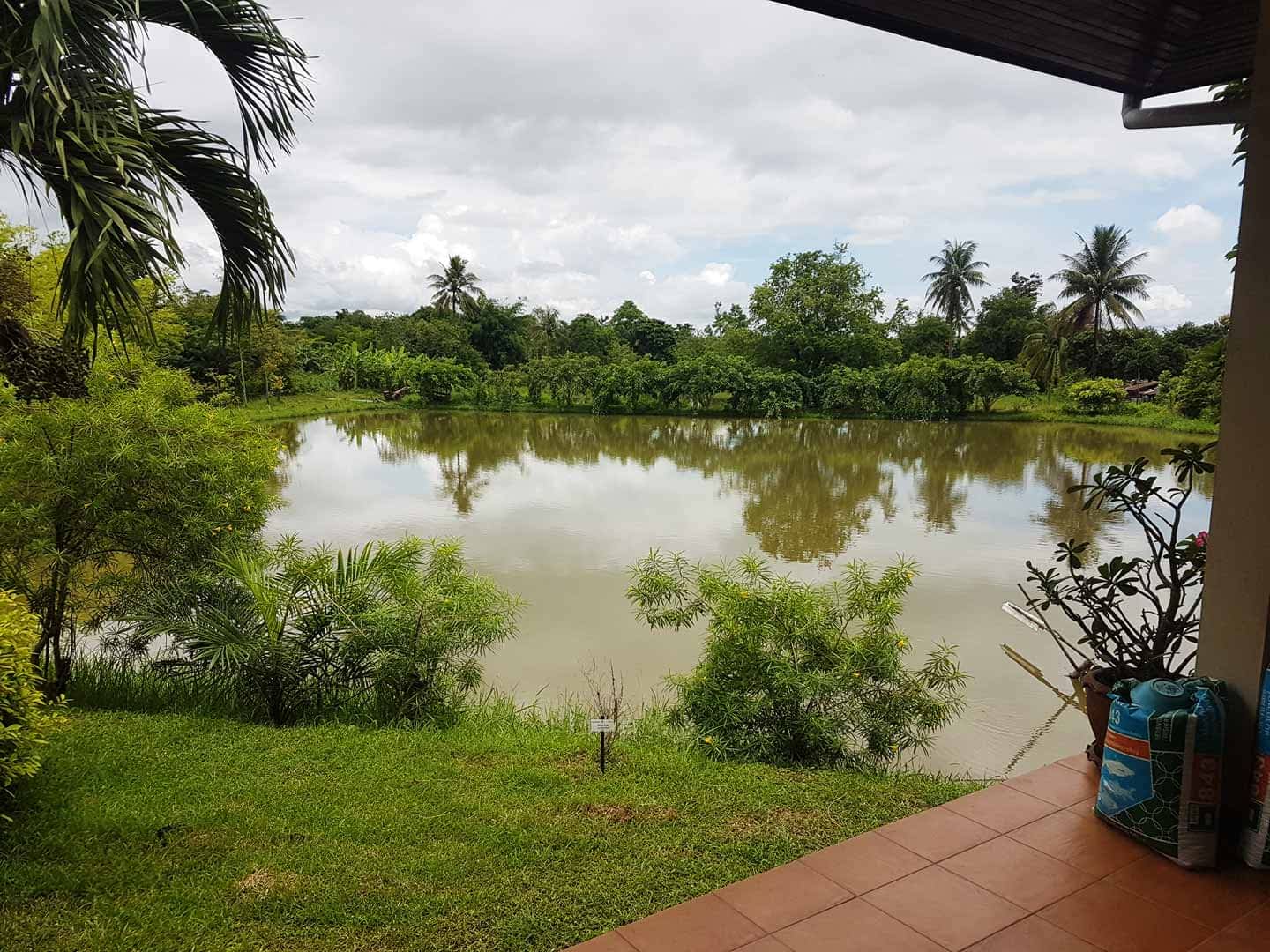 Cacao Trees in Nong Khai
I arrived at the Discovery Garden at about 10 am with a couple of my friends and colleagues from school. We were a bit worried on the way as we awoke that morning to a thunderstorm and heavy rainfall.
We are in the middle of the rainy season in Thailand and we hoped it wouldn't ruin our trip. Luckily the rain slowed down and the sun started to appear about halfway into our drive.
We were greeted by a very friendly and funny man called Amorn. He lives in a house in the middle of the gardens surrounded by beautiful scenery a few large lakes with fish. The location is right next to the Mekong River and the border with Laos.
Most cocoa farms are situated in South Thailand and Chiang Mai. They tend to be cooler areas more suited to growing cocoa. So, we were surprised to discover this place, especially as I live under an hour's drive away. Anyway, our tour began with Amorn leading from the front.
Cacao is a Fruit
First, he showed us the different fruits they grow. They had lemon, lime, avocado, Longan, cacao and many others. Then he showed us the different herbs and spices. He seemed particularly proud of the European varieties. Maybe some of the varieties are unknown or rare in Thailand.
If you decide to stay in Nong Khai to visit Discover Garden then I recommend staying at Na Rim Khong hotel. It has lovely riverside views and really friendly staff. I've stayed there a few times and it's my go-to place to spend the night when I'm in Nong Khai.
Growing Cacao Organically
Then we got to the Cocoa, the main reason we came. They have a small plantation of around 20 cocoa trees and a small nursery of about 100 or so baby cocoa trees. Amorn explained to us that the whole garden is organic.
I noticed that some of the cocoa pods had died and are now black whereas the healthy pods were either purple, orange or yellow. He told us how there are some bugs that also enjoy the fruit inside the pods, I don't blame them because they are delicious.
They don't want to pollute their lakes and so they don't spray any chemicals on the plants. This means that everything is organically grown. However, in order to kill off the parasites causing the cocoa pods to die, they have a natural kind of pesticide.
They soak a very bitter Thai herb called Sadao in water and use that to spray the cocoa trees. The bugs dislike the bitter taste of the spray and to an extent avoid eating the fruits.
Cacao from Fruit to Chocolate
After the tour of the gardens, we headed back to the house to learn how to make chocolate. We were allowed to take a few of the different fruits from the garden to eat on the way back to the house.
At the house, Amorn cut open a couple of cocoa pods with a sharp knife and showed us how they ferment the white pulp inside the cocoa pods. We ate a few of the beans surrounded in white pulp which was sweet and tasted similar to lychee
The Cacao Beans get Fermented
They empty the cocoa pods into a wooden box and then wrap the pulp in large banana leaves. This gets fermented for just under a week whilst turning the pulp every night to ensure an even fermentation.
After that, the beans are laid out to dry in the sun for about 3-5 days. It is at this point that you can really smell the chocolatey flavour of the beans.
Chocolate Spread
Amorn brought out a chocolatey spread that he made earlier. He roasted the beans on coal, separated the nibs from the husks and hand ground them in a mortar and pestle.
He added brown sugar to 50% and then some liquid whole milk. He handed us all a spoon and we each had a taste of his chocolate spread.
It was very sweet and almost had a caramel taste to it due to the brown sugar. This suits the Thai taste as they generally have a very sweet tooth.
Amorn told us how he usually eats it on bread as a kind of chocolate jam or a sweet Nutella, without the nuts. It tasted very nice, however, I would probably lower the sugar content to suit my taste.
My Own Cacao Plant For my Garden
After eating some chocolate and before leaving to go home, I made sure to buy some cocoa beans. I planned to take them home to make dark chocolate so I could taste some locally grown cacao.
Just before leaving I remembered the main reason I came, to buy a cacao plant for my own garden. We went back to the nursery so we could select the plants we wanted. My friend Ice also decided to buy a couple of plants for himself to grow on his families farm.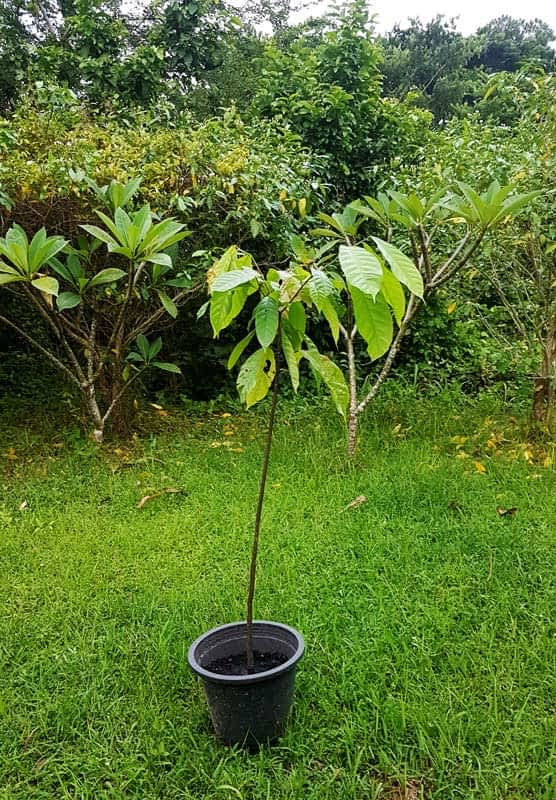 So we left Discovery Garden and stopped off at a well-known temple in Nong Khai. It had a fascinating garden filled with hundreds of statues of mythical creatures, each telling its own story.
The largest statue was of the Phayanak, the mythical serpent and well-known legend that lives in the Mekong river and which represents my blog.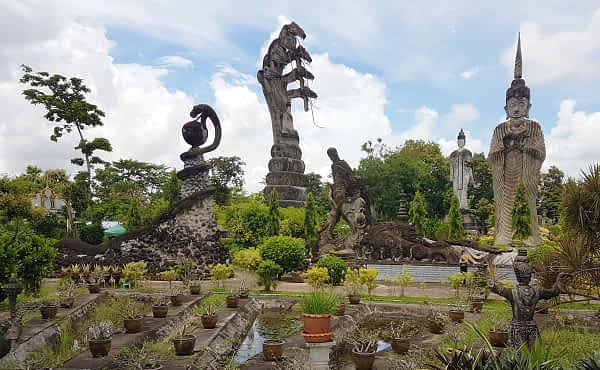 After the temple, we were all pretty famished so we decided to stop next to the Mekong River to grab some Food. There is a famous Vietnamese restaurant in Nong Khai called 'Daeng' and this is where we went to eat.
We got some spring rolls, Vietnamese pork sausages and a variety of vegetables. You get these sheets of rice that you use to wrap the meat and vegetables and a peanut sauce to dip it in. If you are ever in Nong Khai you should definitely put a visit to this restaurant on your agenda.
The restaurant is right on the bank of the Mekong river where you can see the country of Laos on the other side. There is a pathway along the river with a line of street lights, each with a Phayanak on the top of them and so I had to get a photo for this website.
Anyway, we all thoroughly enjoyed our trip to Discovery Garden in Nong Khai and would certainly recommend it to anyone else interested in cocoa or fruits and herbs.
The owners are very friendly and the gardens are located in a very beautiful area surrounded by farms and right next to the Mekong River.
You will be able to taste some fruits and herbs that you might not have ever tried before and more importantly you should have a nice day out.
Subscribe to Chocolate Phayak