A field of sapling cocoa trees in Udon Thani, Thailand.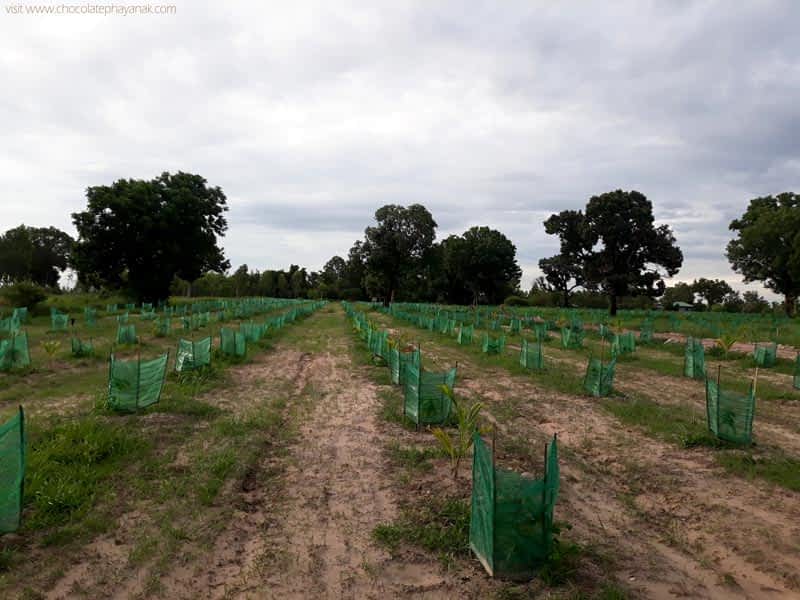 Quite surprisingly, I discovered a field of cocoa tree saplings just by the side of a busy road in Udon Thani. I was told by someone that they had heard about cocoa being grown in Udon, but didn't know exactly where. So, I have been keeping my eyes open for a while.
Then the other day, as I was driving home from Nong Han, something caught my attention. I saw to the right of me, a field with rows and rows of small plants surrounded by a green netting. I immediately got excited, as I knew that Udon was too hot for cocoa trees and if they were going to be grown, they would have needed to have been shaded somehow.
I did a U-turn, parked up my bike and walked around the field checking out the cocoa saplings. I couldn't tell you how many trees there were, but there must have been over 500 of them. They were planted in long straight rows with about 2-3 meters between each plant.  Each cocoa sapling was surrounded by a green netting held up by 3-4 sticks to give them some protection from the sun. It seemed that each sapling was watered by some kind of micro tubing, a series of thin tubes that deliver water to each plant.
The cocoa saplings were pretty small and must have been quite young. They were about half the size of the cocoa tree I have planted in my garden. Therefore, I would guess that they were around 6 months old. They looked healthy enough, although I noticed the same issue I have with my own cocoa tree. Many of the leaves were full of holes, eaten by some kind of insect. I think this is quite normal as I have seen the same thing at some of the other cocoa farms I had visited.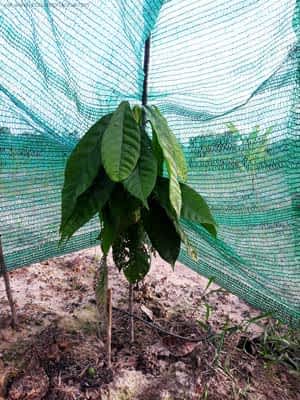 Anyway, I wanted to know what they were going to do with so many cocoa trees, but I couldn't see any farmer around to ask. So, I decided to drive home and see if I could find any information online. After a while of researching, I found a Facebook page called สวนโกโก้เมืองอุดร Cocoa Nice. After trying to decipher the Thai language, it seems like the cocoa trees are being grown to sell to cocoa farmers or people looking to get into cocoa farming.
During this research, I also found some interesting information. Apparently, Thailand is increasingly switching to cocoa farming in response to the drop in price of rubber. A field like this would help to supply any potential cocoa farmers with trees.
I also found out that there were a few other cocoa farms in some of the surrounding regions of Udon Thani. I will be sure to check them out and share any future visits with you on this blog. I will also return to this field to try and get an interview with the owner.